By the end of this section, you will be able to:
State Kirchhoff's junction rule
State Kirchhoff's loop rule
Analyze complex circuits using Kirchhoff's rules
We have just seen that some circuits may be analyzed by reducing a circuit to a single voltage source and an equivalent resistance. Many complex circuits cannot be analyzed with the series-parallel techniques developed in the preceding sections. In this section, we elaborate on the use of Kirchhoff's rules to analyze more complex circuits. For example, the circuit in Figure 10.19 is known as a multi-loop circuit, which consists of junctions. A junction, also known as a node, is a connection of three or more wires. In this circuit, the previous methods cannot be used, because not all the resistors are in clear series or parallel configurations that can be reduced. Give it a try. The resistors and are in series and can be reduced to an equivalent resistance. The same is true of resistors and . But what do you do then?
Even though this circuit cannot be analyzed using the methods already learned, two circuit analysis rules can be used to analyze any circuit, simple or complex. The rules are known as Kirchhoff's rules, after their inventor Gustav Kirchhoff (1824–1887).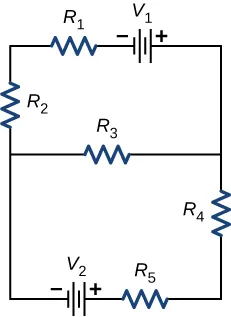 Kirchhoff's first rule—the junction rule. The sum of all currents entering a junction must equal the sum of all currents leaving the junction:
Kirchhoff's second rule—the loop rule. The algebraic sum of changes in potential around any closed circuit path (loop) must be zero:
We now provide explanations of these two rules, followed by problem-solving hints for applying them and a worked example that uses them.