Learning Outcomes
By the end of this section, you will be able to:
1

Describe the challenges of segmenting B2B markets.

2

Discuss the advantages of segmenting B2B markets.

3

Explain methods of segmenting B2B markets.
Challenges of Segmenting B2B Markets
Just like its consumer market counterpart, business-to-business (B2B) market segmentation focuses on identifying unique market segments based on common characteristics. However, segmenting a B2B market is in many ways far more challenging than segmenting a consumer market because the motivations, processes, and considerations of B2B buyers are quite different from those of business-to-consumer (B2C) buyers. Let's take a closer look.
Challenge #1: Dealing with Highly Complex B2B Markets. As discussed in Business Markets and Purchasing Behavior, decision-making in B2B markets is quite different from decision-making in B2C markets. In a B2C market, the consumer is often the only decision maker involved in making a purchase. That's not the case in B2B markets, where you're often dealing with a buying center—all the people in the organization who have varying influence on the B2B buy decision. You may also recall from this chapter that buying centers have a variety of members who play different roles, such as users, initiators, influencers, gatekeepers, decision-makers, etc. Accordingly, it can be difficult to identify precisely who the target buyer is.18
Challenge #2: Dealing with More Rational Buyers. Although the view is somewhat controversial, it is said that B2B buyers are more "rational." Consumers tend to buy what they want and are more affected by emotions in buying decisions. Alternatively, B2B buyers typically buy what they need, and buying decisions are more deliberate, particularly in terms of price. Accordingly, in B2B markets, the marketer must determine the drivers of those needs.
Challenge #3: Complexity of B2B Products. Just as the decision-making unit in a B2B transaction is more complex, so too are the B2B products themselves. When you make a major purchase, like a high-definition TV, your choice is likely made on the basis of fairly simple criteria. You might evaluate things like screen size, resolution, and your budget. However, in the B2B market, even the simplest of products may have to be integrated into a larger system. For example, a new payroll system might have to be integrated into the company's human resources information system (HRIS). Another consideration with respect to the complexity of B2B products is that many B2B purchases are frequently tweaked to meet the company's detailed specifications, whereas consumer products are almost always standardized.19
Advantages of Segmenting B2B Markets
Market segmentation is a tried-and-true method that's been around since the 1950s, but there is still some confusion about how to use it in a B2B setting because it's not as clear-cut as other forms of market segmentation. How does a marketer target the characteristics of something impersonal like a business? Despite the challenges of segmenting B2B markets, it still plays a critical role. Let's examine some of the advantages.20
Improved Campaign Performance. Similar to the previous example of a company using specialty magazines to reach the right target audience with the right message, B2B marketers can do the same. For example,

Mailchimp

, a marketing automation platform and email marketing service, examined user data to compare segmented marketing campaigns with non-segmented campaigns. The statistics based upon a comparison of 18 million email recipients were eye-opening. Campaigns directed toward defined market segments saw increases in a number of areas, including a 14.3 percent higher email open rate.21
Improved Customer Loyalty and Retention. In our discussion of consumer market segmentation, we pointed out that market segmentation allows marketers to better understand what consumers are looking for in a product or service, and the same holds true with B2B market segmentation. The more marketers know about their customers' business objectives and challenges, the more they can attempt to meet their needs. That not only builds confidence in the brand but also ultimately leads to greater customer retention and loyalty.22
Assistance in Product Development. By using market segmentation, a company can refine its products or services to better meet the needs of its B2B customers. For example, let's say your company's product is payroll software. Having better identified the needs of the target market, your company may be able to add new features and functionality to make it even more attractive for the target market and possibly add a new revenue stream by making the product useful for another market segment.
Improved Profitability. Implementing a market segmentation strategy accomplishes three important goals. First, targeting the right B2B customers with the right message increases your company's competitiveness. Second, it enables the marketer to properly price products with the best price for its different customer segments. Third, it helps identify the best prices with which to target new customers and ensure that your organization's offerings are neither overpriced nor underpriced, thereby increasing profitability.23
Methods of Segmenting B2B Markets
How do you segment B2B markets? Just like with consumer markets, there is a variety of methods. Marketers can segment B2B markets based on firmographics, technographics, needs-based segmentation, value-based segmentation, and behavioral segmentation (see Figure 5.7). We will look at each of these in the following sections.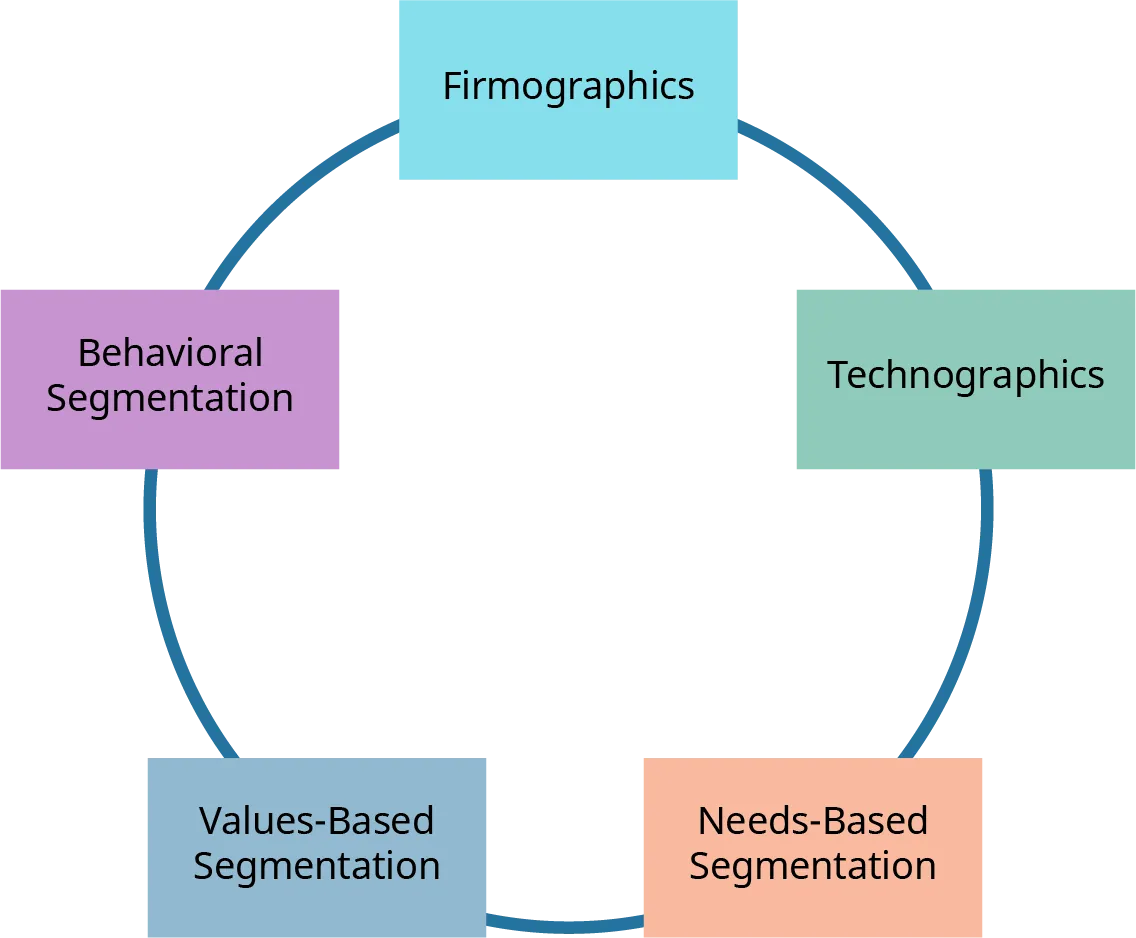 Knowledge Check
It's time to check your knowledge on the concepts presented in this section. Refer to the Answer Key at the end of the book for feedback.