Learning Outcomes
By the end of this section, you will be able to:
1

Define and describe marketing.

2

Describe the benefits of marketing to the organization, its interested parties, and society.

3

Explain the marketing process.
Marketing Defined
When you ask a group of people, "What's marketing?" most people will answer "advertising" or "selling." It's true that both of these functions are part of marketing, but marketing is also so much more. The American Marketing Association (AMA) defines marketing as "the activity, set of institutions, and processes for creating, communicating, delivering, and exchanging offerings that have value for customers, clients, partners, and society at large."6 That's kind of a mouthful, so let's see if we can simplify it a bit.
At its most basic level, marketing is made up of every process involved in moving a product or service from the organization to the consumer. It includes discerning the needs of customers, developing products or services to meet those needs, identifying who is likely to purchase the products or services, promoting them, and moving them through the appropriate distribution channels to reach those customers. Marketing, quite simply, is about understanding what your customers want and using that understanding to drive the business.
Marketing can also be defined as the set of activities involved in identifying and anticipating customer needs and then attempting to satisfy those needs profitably.7 But what does that really mean? Let's break down that definition:
Identifying customer needs. This is typically where marketing research comes in. Methods of marketing research will be covered in a later chapter, but market research helps a company develop a detailed picture of its customers, including a clear understanding of their wants and needs.
Anticipating customer needs. After analyzing the data collected, marketers can predict how products might be changed, adapted, or updated.
Satisfying customer needs. If marketers have done their homework correctly and clearly understand their customers' needs, consumers will be pleased with their product purchase and will be more likely to make additional purchases.
Profitably. Profitability is a relatively simple term; it's when a company's revenue is greater than its expenses. In terms of marketing, the road to profitability means adding value to a product so that the price customers pay is greater than the cost of making the product.8
Reconciling Segmentation and Diversity
We live in a multicultural world where diversity, equity, inclusion, and belonging (DEIB) is no longer the "right" thing to do; rather, it's imperative. This is particularly true in marketing, because as the consumer population diversifies, brands have to authentically reflect a wide range of backgrounds and life experiences in order to effectively connect with consumers. Therefore, marketers must increasingly respect individual preferences, celebrate differences, and promote customization of products and services to meet customers' needs, wants, and preferences.
At the same time, to profitably produce and sell a viable product or service, marketers must identify potential customer groups and types with certain characteristics in common—i.e., market segmentation. Segmentation requires assigning individuals to predefined categories with predictable behaviors, based on standardized assumptions.
How does segmentation differ from stereotyping? How can segmentation support diversity?
Read the following articles to further explore these nuances:
Keep these questions in mind as you explore Unit 2 of this book, where you will learn more about Market Segmentation, Targeting, and Positioning before exploring the considerations of Marketing in a Diverse Marketplace.
How Marketing Benefits the Organization, Its Interested Parties, and Society
Before we go on, let's consider all the people and groups that an organization needs to consider and serve. Interested parties are those persons or entities that have an interest in the success or failure of a company. These parties can be categorized into two types: internal and external, as shown in Figure 1.2. You may see these people and groups referred to as "stakeholders" in business writing and other media.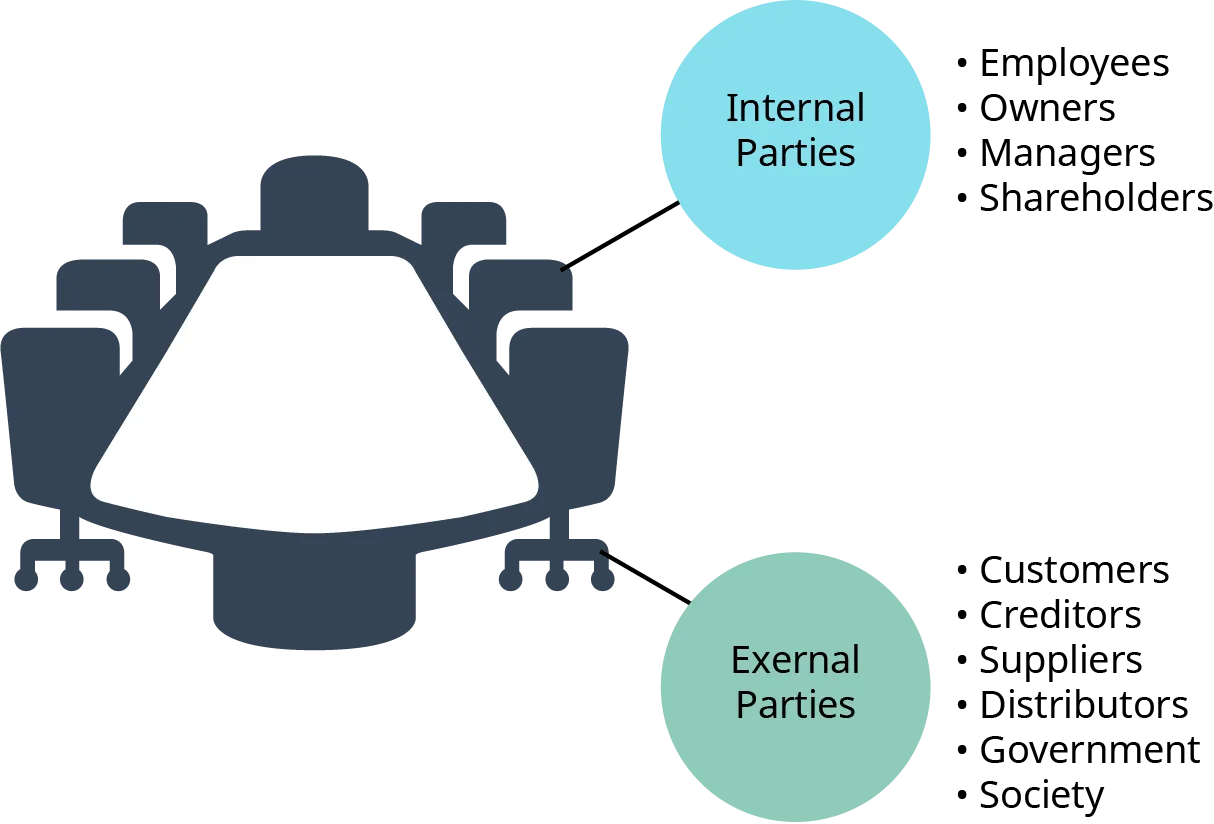 Internal interested parties are entities that reside within the organization and that affect—or are affected by—the actions of the company. These entities include employees, owners, managers, and investors (shareholders). When we think about marketing, marketers often tend to look outward. They build strategies to engage customers and show them what the company has to offer.
You might think that marketing would be primarily directed toward those outside the company, like customers, but marketing is also directed toward internal groups. Internal marketing involves promoting the objectives, products, and services of a company to its internal constituents—particularly employees.9
Think about a recent interaction you have had with a business employee. It could be the server who took your order at lunch or the sales associate at a big box store who showed you the features of the new laptop you were looking to purchase. Which interactions left you with a positive experience? Chances are that your evaluation of the experience is based on the interaction you had with the server or sales associate. That's a function and benefit of good internal marketing, employees who are motivated and empowered to deliver a satisfying customer experience.
External interested parties include those outside the company, such as customers, creditors, suppliers, distributors, and even society at large. External groups don't have a direct say in the company's decision-making process. However they are vital to the success of the company because companies can only succeed with the support of others.
How does marketing benefit external parties? First, consider what marketing does for consumers. It draws out their needs, creates new demand, locates untapped opportunities, and determines the possibilities of selling new products. Second, marketing creates form, time, place, and possession utilities for the company's goods and services. Utility refers to a product's usefulness to customers so that they are convinced enough to make a purchase. In other words, when you hear "utility" in marketing, think "usefulness to customers."
Marketing creates several different types of utility:
Form utility

. Form utility refers to how well an organization can increase the value of its product in the customer's eyes by making changes and altering its physical appearance.10 For example, when you want a donut or a pastry, you don't want to buy the ingredients to make it; you want a donut in its final form so you can eat it. That's where the bakery and form utility come into play. The bakery combines flour, sugar, eggs, and other ingredients to make the cakes, donuts, and pastries that you purchase.

Time utility

. Marketing creates time utility when it makes products and services available to customers so that they can buy it when it is most convenient for them. Consider how many stores are open evenings, weekends, or even 24/7 to make it convenient for customers to shop there!

Place utility

. Marketing creates place utility when it makes goods or services physically available, convenient, and accessible to customers. Consider the ease a company like

Uber Eats

adds to your life when you're craving tacos in the middle of the night and you don't feel like getting dressed and driving to go get them. You can have your food delivered to you!

Possession utility

. Marketers facilitate possession utility by ensuring that a product is relatively easy to acquire. For example, many automobile manufacturers offer low (or sometimes no) interest rates on car loans to make it easy for you to walk out the door with a new set of car keys. Possession utility also encompasses the pride or satisfaction you get from owning a new product, such as a great-fitting pair of running shoes or a smartphone with all of the features you've been wanting.
Marketing's primary benefit to society is that it drives the consumer economy. Marketing leads to increased sales and revenue for a business which enables them to expand operations, create more internal jobs and external jobs for partners like suppliers. Marketing also contributes tax revenue to local, state, and federal governments, ultimately leading to overall economic growth.
The Marketing Process Defined
The marketing process refers to the series of steps that assist businesses in planning, analyzing, implementing, and adjusting their marketing strategy. Do an internet search for "steps in the marketing process," and you'll immediately see that some websites outline a 10-step process, whereas others propose a 4-step or 6-step process. For our purposes, we're going to use a 5-step process.
Steps in the Marketing Process
The 5-step process (see Figure 1.3) involves understanding the marketplace and customers, developing a marketing strategy, delivering value, growing customer relations, and capturing value from customers.11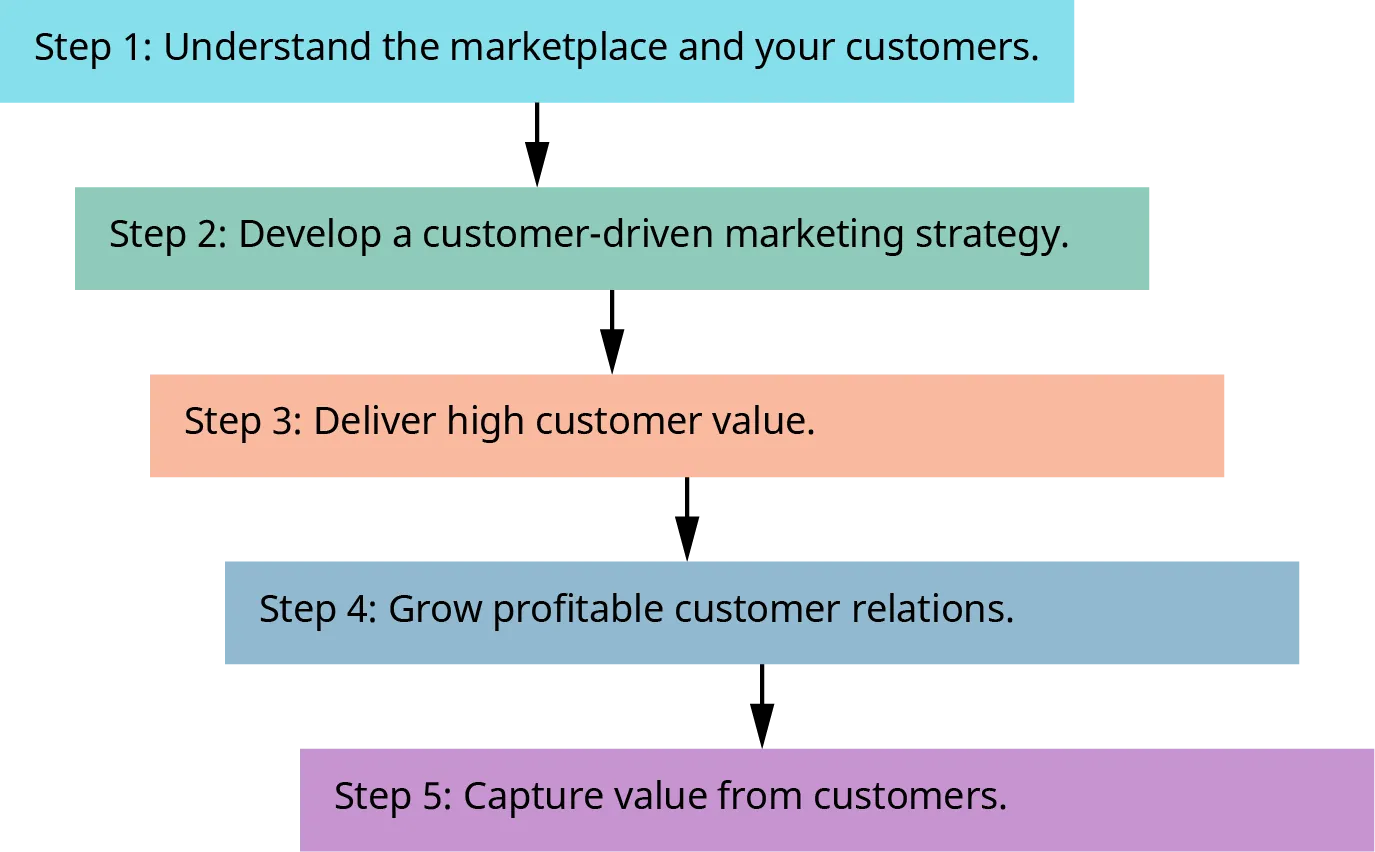 Knowledge Check
It's time to check your knowledge on the concepts presented in this section. Refer to the Answer Key at the end of the book for feedback.