EA
1
.
LO 12.1Campus Flights takes out a bank loan in the amount of $200,500 on March 1. The terms of the loan include a repayment of principal in ten equal installments, paid annually from March 1. The annual interest rate on the loan is 8%, recognized on December 31. (Round answers to the nearest whole dollar if needed.)
Compute the interest recognized as of December 31 in year 1 rounded to the whole dollar.
Compute the principal due in year 1.
EA
2
.
LO 12.1Consider the following accounts and determine if the account is a current liability, a noncurrent liability, or neither.
cash
federal income tax payable this year
long-term note payable
current portion of a long-term note payable
note payable due in four years
interest expense
state income tax
EA
3
.
LO 12.1Lamplight Plus sells lamps to consumers. The company contracts with a supplier who provides them with lamp fixtures. There is an agreement that Lamplight Plus is not required to provide cash payment immediately and instead will provide payment within thirty days of the invoice date.
Additional information:
Lamplight purchases thirty light fixtures for $20 each on August 1, invoice date August 1, with no discount terms
Lamplight returns ten light fixtures (receiving a credit amount for the total purchase price per fixture of $20 each) on August 3.
Lamplight purchases an additional fifteen light fixtures for $15 each on August 19, invoice date August 19, with no discount terms.
Lamplight pays $100 toward its account on August 22.
What amount does Lamplight Plus still owe to the supplier on August 30? What account is used to recognize this outstanding amount?
EA
9
.
LO 12.3Following is the unadjusted trial balance for Sun Energy Co. on December 31, 2017.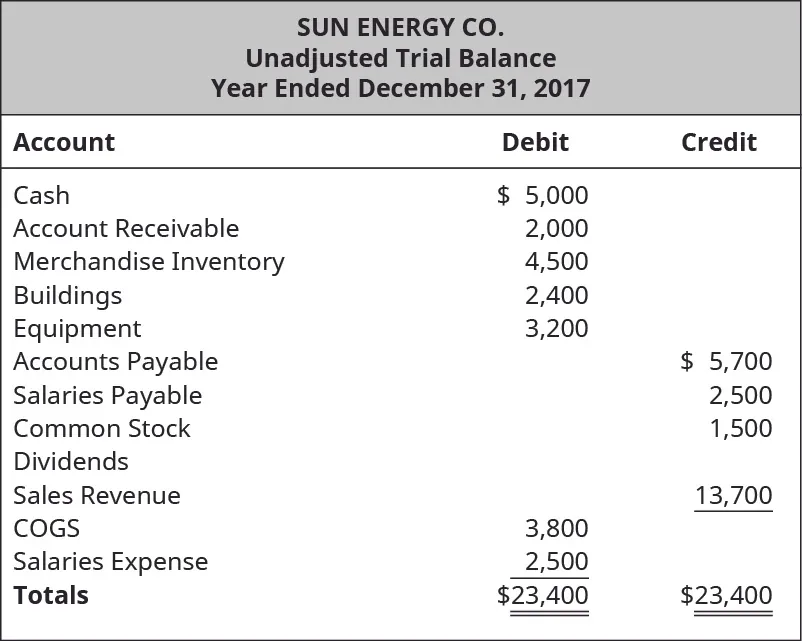 You are also given the following supplemental information: A pending lawsuit, claiming $2,700 in damages, is considered likely to favor the plaintiff and can be reasonably estimated. Sun Energy Co. believes a customer may win a lawsuit for $3,500 in damages, but the outcome is only reasonably possible to occur. Sun Energy calculated warranty expense estimates of $210.
Using the unadjusted trial balance and supplemental information for Sun Energy Co., construct an income statement for the year ended December 31, 2017. Pay particular attention to expenses resulting from contingencies.
Construct a balance sheet, for December 31, 2017, from the given unadjusted trial balance, supplemental information, and income statement for Sun Energy Co., paying particular attention to contingent liabilities.
Prepare any necessary contingent liability note disclosures for Sun Energy Co. Only give one to three sentences for each contingency note disclosure.
EA
10
.
LO 12.4Barkers Baked Goods purchases dog treats from a supplier on February 2 at a quantity of 6,000 treats at $1 per treat. Terms of the purchase are 2/10, n/30. Barkers pays half the amount due in cash on February 28 but cannot pay the remaining balance due in four days. The supplier renegotiates the terms on March 4 and allows Barkers to convert its purchase payment into a short-term note, with an annual interest rate of 6%, payable in 9 months.
Show the entries for the initial purchase, the partial payment, and the conversion.
EA
11
.
LO 12.4Use information from Exercise 12.10. Compute the interest expense due when Barkers honors the note. Show the journal entry to recognize payment of the short-term note on December 4.
EA
12
.
LO 12.4Scrimiger Paints wants to upgrade its machinery and on September 20 takes out a loan from the bank in the amount of $500,000. The terms of the loan are 2.9% annual interest rate and payable in 8 months. Interest is due in equal payments each month.
Compute the interest expense due each month. Show the journal entry to recognize the interest payment on October 20, and the entry for payment of the short-term note and final interest payment on May 20. Round to the nearest cent if required.