Critical Thinking
34
.
The structural formula shown corresponds to penicillin G, a narrow-spectrum antibiotic that is given intravenously or intramuscularly as a treatment for several bacterial diseases. The antibiotic is produced by fungi of the genus Penicillium. (a) Identify three major functional groups in this molecule that each comprise two simpler functional groups. (b) Name the two simpler functional groups composing each of the major functional groups identified in (a).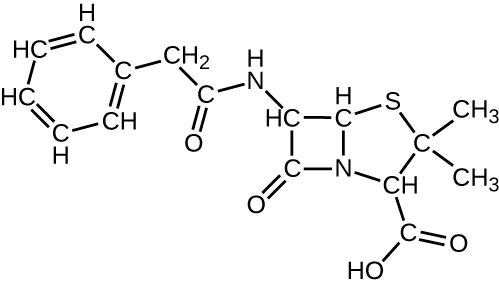 35
.
The figure depicts the structural formulas of glucose, galactose, and fructose. (a) Circle the functional groups that classify the sugars either an aldose or a ketose, and identify each sugar as one or the other. (b) The chemical formula of these compounds is the same, although the structural formula is different. What are such compounds called?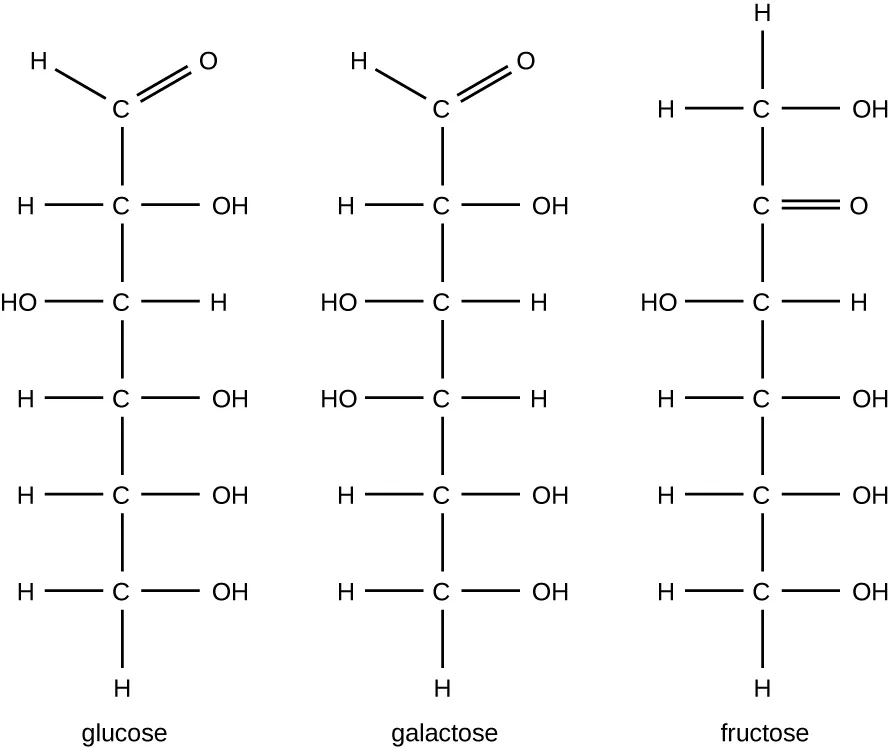 36
.
Structural diagrams for the linear and cyclic forms of a monosaccharide are shown. (a) What is the molecular formula for this monosaccharide? (Count the C, H and O atoms in each to confirm that these two molecules have the same formula, and report this formula.) (b) Identify which hydroxyl group in the linear structure undergoes the ring-forming reaction with the carbonyl group.

37
.
The term "dextrose" is commonly used in medical settings when referring to the biologically relevant isomer of the monosaccharide glucose. Explain the logic of this alternative name.
38
.
Microorganisms can thrive under many different conditions, including high-temperature environments such as hot springs. To function properly, cell membranes have to be in a fluid state. How do you expect the fatty acid content (saturated versus unsaturated) of bacteria living in high-temperature environments might compare with that of bacteria living in more moderate temperatures?
39
.
Heating a protein sufficiently may cause it to denature. Considering the definition of denaturation, what does this statement say about the strengths of peptide bonds in comparison to hydrogen bonds?
40
.
The image shown represents a tetrapeptide. (a) How many peptide bonds are in this molecule? (b) Identify the side groups of the four amino acids composing this peptide.