Learning Outcomes
By the end of this section, you will be able to:
Craft textual and digital compositions using various genres of modes and technologies.
Match different modes of communication to various rhetorical situations.
Identify various genres of multimodal and online writing.
After you have chosen a cause and begun working through the composition, you might want to tweak the modes you are working with, including how they relate to one another. You may find, for example, that your primary communication to readers would be better achieved with a different mode or that you need stronger transitions to move your reader through your rhetorical appeal. Don't be afraid to experiment, revise, and examine your project from different angles. Just like a literary text, a multimodal composition is a living document, one that can be improved over time with peer review and revision. As you work, focus your project by concentrating on addressing your audience, purpose, and organization.
Summary of Assignment
Create a multimodal advocacy project for a cause or an issue that you choose or that your instructor chooses for you. If you are free to choose your own topic, here is a short list from which you may draw inspiration:
Providing clean and safe water
Ending gun violence
Addressing nutritional needs of children locally or around the world
Anti-bullying
Reducing your carbon footprint
Access to health care
Anti-racism
Vaccination policies
Social media and free speech
Climate change
Immigration
You may also use these brainstorming questions to narrow down your topic:
What are you passionate about?
Where do you notice a need in your community / the world?
What ideas do you have for addressing the issue?
What existing campaigns do you find compelling, and why?
What existing projects can you build on, and how?
What goals do you hope to achieve?
Choose a need or an issue that is important to you, because you will develop a rhetorical appeal to inform and convince your audience. Although world hunger is an important issue and may not be a bad example, consider choosing problems that you encounter locally, even in your everyday life. The closer you are to the issue, the more easily you will be able to develop rhetorical appeals. As you compose your project, consider the best modes and methods to communicate your ideas. Consider how to add and combine different modalities to increase audience impact without overdoing it.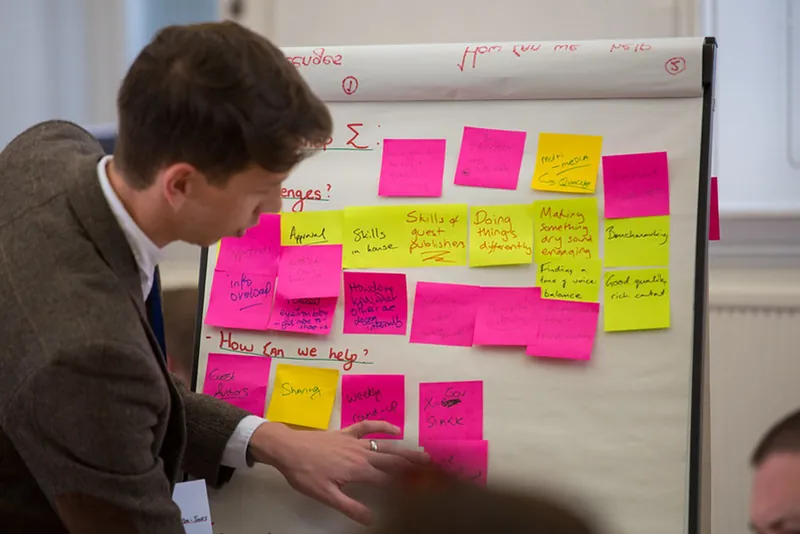 Determine what others are already doing to address the need you have identified, and decide whether to build on that work or take a different route. Identify the most effective means of translating the vision you decide on for your audience, which may differ from the audience targeted by other advocacy groups.
Another Lens 2. Another option for approaching this project is to identify and analyze multimodal advocacy initiatives already occurring on a large scale today. Some well-known ones include Charity: Water, Free Rice, It Gets Better, and Upworthy. After choosing an advocacy campaign to research, consider the following:
What is the purpose of the advocacy initiative? What do the organizers want to achieve?
Whom does the initiative address? (Knowing the target audience will help you analyze how effectively the organizers use a multimodal approach to reach them.)
How does the initiative persuade its audience? Are rhetorical appeals used, and if so, how? Why do you think these choices are made?
What modes of communication are being used? (These may include social media platforms and streams.) Does the campaign rely more on textual or non-textual media to convey its message? How are modes combined, and how effective are these choices?
After thinking about these questions, create an addition to this advocacy initiative. Introduce your composition by explaining what you have included and why.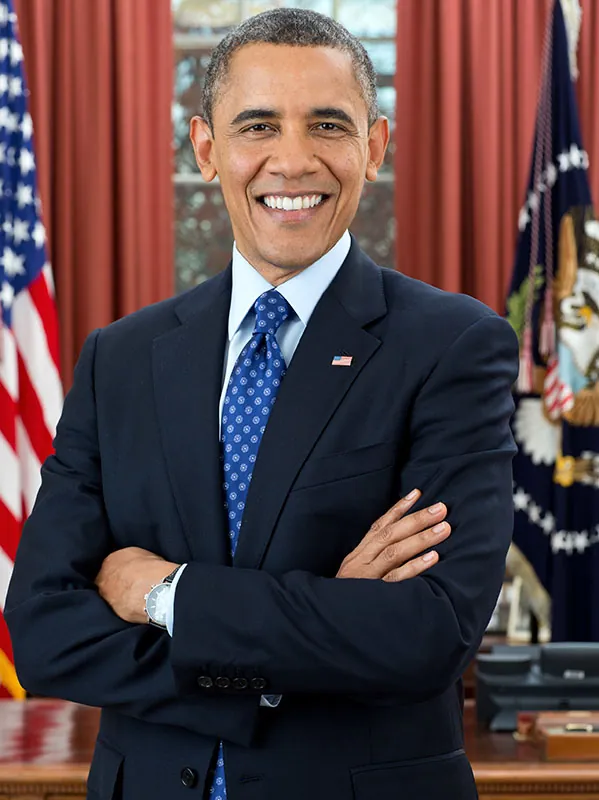 Quick Launch: Defining a Primary Purpose and Goal
After you have decided on your topic, the first step is to identify the primary purpose, or reason, for your advocacy project. Your goal is what you want to accomplish with it. Do you intend to inform people about an issue they are likely to know little about, or do you want to inspire people around you to take action in creating a sustainable solution that addresses the issue at hand? Goals are broad statements and can be general and abstract, as in the case of this goal: Improve access to clean water for students in Flint, Michigan.
Part of identifying your goal is to articulate your claim, or assertion, about the issue you have chosen. Your claim is equivalent to a thesis in a traditional written essay. Identifying your purpose and goal will help you decide how to structure your project and, ultimately, which media and modes to employ.
Consider also your audience. You already have learned and discussed the importance of understanding your audience's perspective, including social, cultural, or linguistic factors that could affect your communication. Understanding what your audience knows, their lived experiences, and what is important to them will help you shape your narrative. Complete these sentence starters to organize your ideas and begin the planning stages of your project.
Define the situation.
My project focuses on ________, which is a problem because ________.
Define your purpose.
The purpose of my project is to ________, which will be accomplished by ________.
Write a thesis, hypothesis, or line of inquiry.
The issue I'm addressing is ________.
My position on the issue is ________.
Write your thesis as a declarative sentence. See Writing Process: Creating a Position Argument for help writing a thesis. ___________________________________________________________.
Define your goals and objectives.
I will try to ________ by ________.
Define your audience.
The intended audience for my project is ________. They are ________ (familiar/unfamiliar) with the issue. I will reach them by ________.
After you define the situation, it is time to choose the mode or modes to communicate your ideas to your audience. For example, will you write an op-ed, or opinion piece, in which you formally discuss the issue and advocate for change? Will you write and deliver a speech that relies on rhetorical devices to convey your passion for the issue? You might also consider advertisements and public service announcements (PSAs), including audio and video versions, as other effective ways to "sell" a concept, often combining modes for added impact. For examples, peruse The Op-Ed Project or the Ad Council.
Just as your choice of topic must be rhetorically sound and specific, your choice of mode should be based on the circumstances under which your audience will best meet and respond to your advocacy project. This decision may feel daunting, because composing within the multimodal genres means that you have many options. You might choose a video advertisement, a visual flyer, a performance, a photo essay, or something completely different. Consider the modes you might use to accomplish your goals, responding to the needs of your audience.
Linguistic Mode
Visual Mode
Audio Mode
Spatial Mode
Gestural Mode
Uses in Composition

written text

word choice

organization

tone

color

style

size

perspective

sound

narration

music/effects

silence

arrangement

proximity

organization

body language

facial expressions

Primary Types of Media (media may cross multiple modes)
print or digital media (newspaper, blog, professional publication)

infographic

photo essay

advertisement

PSA

website/blog/vlog

speech

advertisement

radio

podcast

vlog

infographic

photo essay

website/blog/vlog

speech

presentation

vlog
Drafting: Varying Purposes for Integration of Media or Other Genres
Gathering Information
The first step in any project is to collect and analyze sources. You will likely need to explore relevant research, data, and literature that already address your topic. The following questions are a good place to start: What do you already know about the issue you have chosen to address? What do you need to learn, and where can you find that information?
Now plan for the ways in which your project will create and support the argument, the modes and media you will use, and how these will reach your audience. Start by completing a graphic organizer like Table 18.2. Begin with what you already know, including the sources of that information, formal research you have done, and informal or anecdotal data you have. After looking carefully at what you have, ask yourself what you still need to learn about the topic to understand and communicate the issue to your audience. Finally, brainstorm for strategies to learn that information. These may include research, interviews, or other methods of data collection. Then carry out that information collection until you have what you need.
| What I already know | Source(s) of that information | Information and data that I need to collect | Where I can find information |
| --- | --- | --- | --- |
| | | | |
Determine Modes and Media
Once your research is complete (or, at least, once you have a good enough foundation to get started), determine which modes and media you will employ to address your audience. Research, like composition as a whole, is largely an open-ended process, one in which you may need to experiment to determine whether the modes, media, and genres you choose accurately and effectively communicate your purpose to the audience. A good way to make this decision is to create a mockup or storyboard. A mockup is a visual representation of compositions that are basically static. You can use a mockup for media such as websites, posters, or photo essays. A storyboard is a sequence of drawings that represents the progression of a piece that moves through time. You can use a storyboard for media such as videos or podcasts.
Use graphic organizers like Figure 18.15 and Figure 18.16 for your mockup or storyboard. Remember to consider all modes, including linguistic, visual, audio, spatial, and gestural, and what impact they will make on your audience.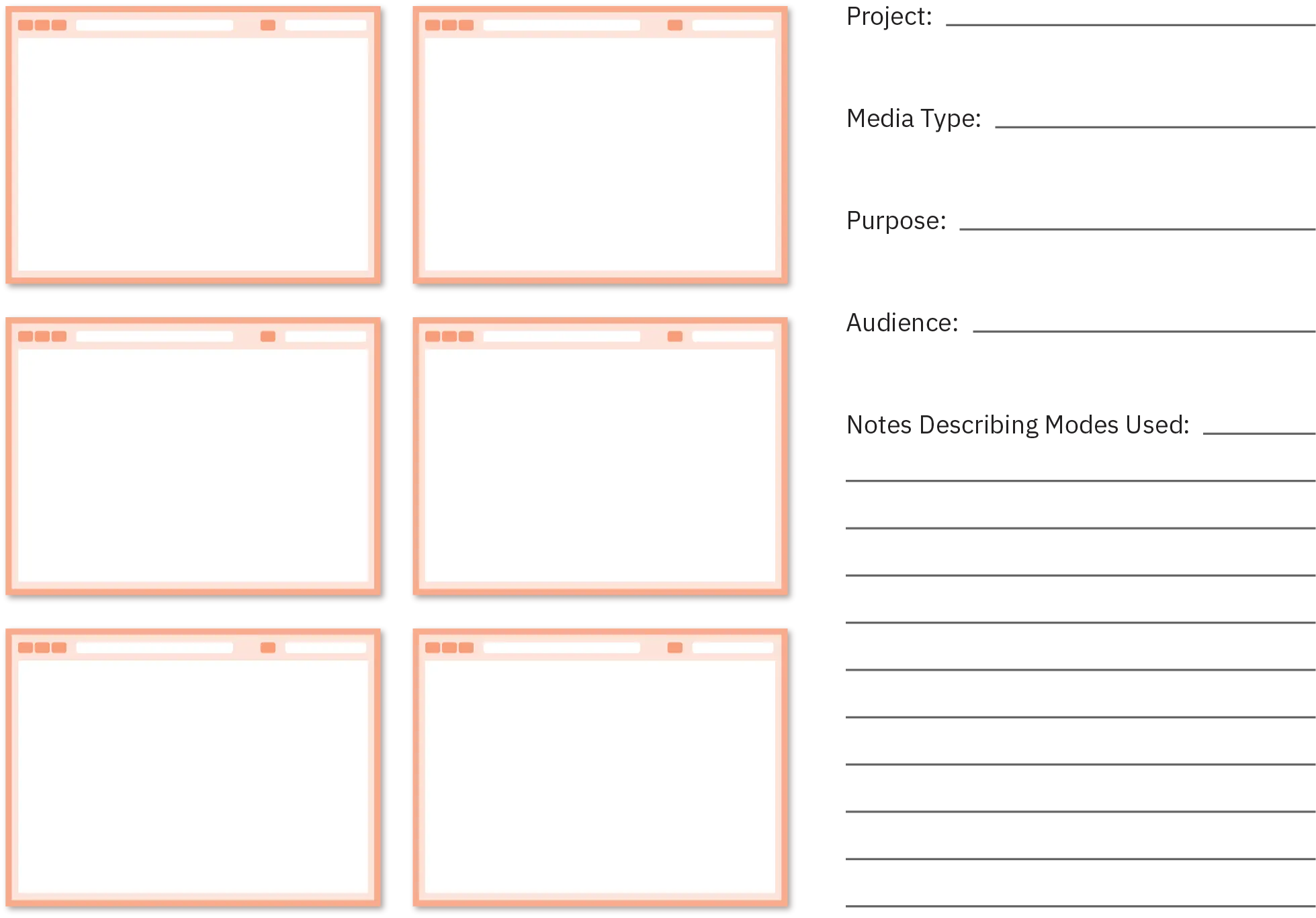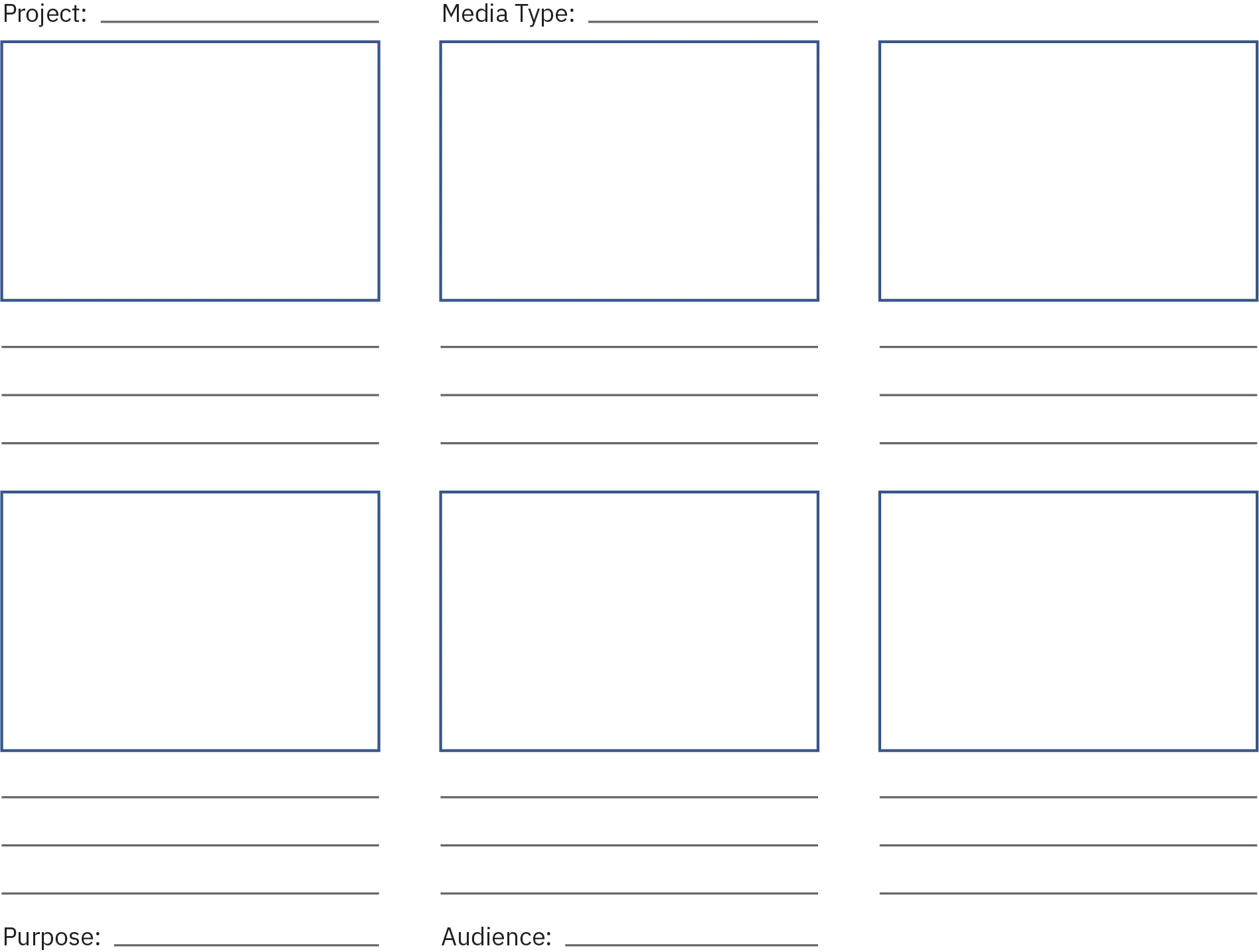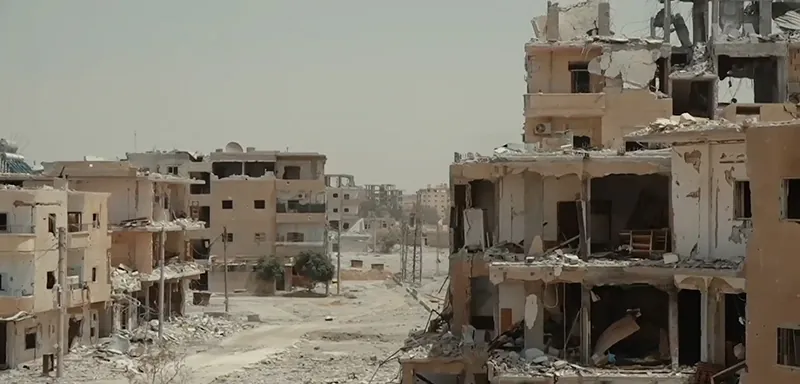 That student might ask and answer questions such as the following:
What do I want to convey? The desperate situation in Syria because of the war
Who is my audience? Online readers interested in current events
How do the media I've chosen speak to the audience? They tell a story more powerfully than text can by itself.
As you brainstorm, don't feel obligated to include every piece of information or media you collect. You'll want to choose carefully, ensuring that the information and media you use serve your audience and rhetorical goals.
Introduce Other Genres
After establishing the primary genre, it's time to define the purpose for introducing other genres, including how you will introduce them smoothly with seamless transitions. In the example above, the student chooses a photo essay as the primary genre. A photo essay usually includes multiple pictures, laid out on a blog or website with or without text. If there is an opportunity to directly address the audience, the student might consider writing a script to incorporate the genre of presentation. Or they might choose to create a slideshow or video, incorporating a voice-over or textual quotations. All of these choices depend on their purpose as the composer, the rhetorical methods they believe will work best, and a knowledge of their audience, including how best to respond to social and cultural needs. It's important not to incorporate more modes simply for the sake of having more. Each choice you make will either enhance or detract from your purpose.
Compose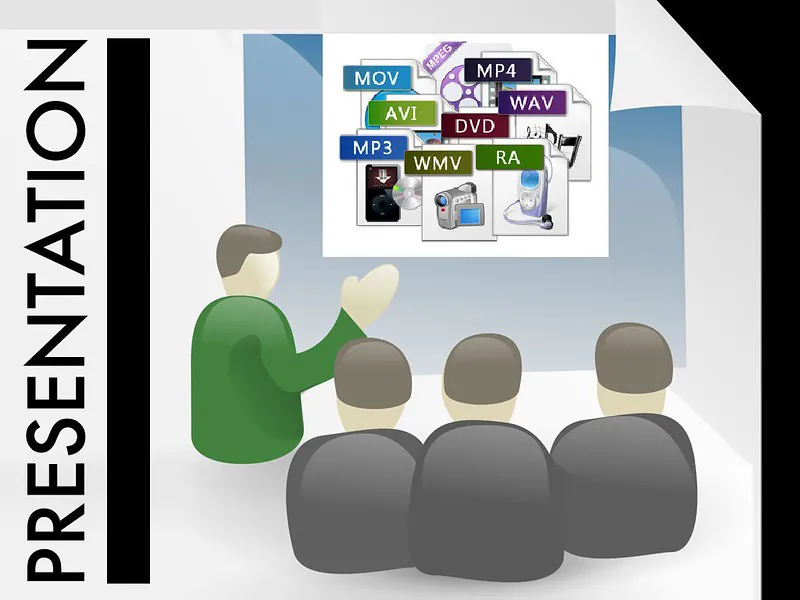 After you have created your mockup or storyboard, it is time to create the first draft of your project. Sometimes called a first cut, particularly in audiovisual presentations, this is the next step in drafting the composition's basic elements. It is also your chance to experiment with the modes and media you have considered to determine what works and what doesn't. This first cut creates a prototype, a preliminary model or draft, that you will revise according to feedback from peer review. Consider this prototype as a starting point. Keep in mind that the composition process, like the writing process, is recursive, not linear. You can move from drafting to research to revising and organizing at any point.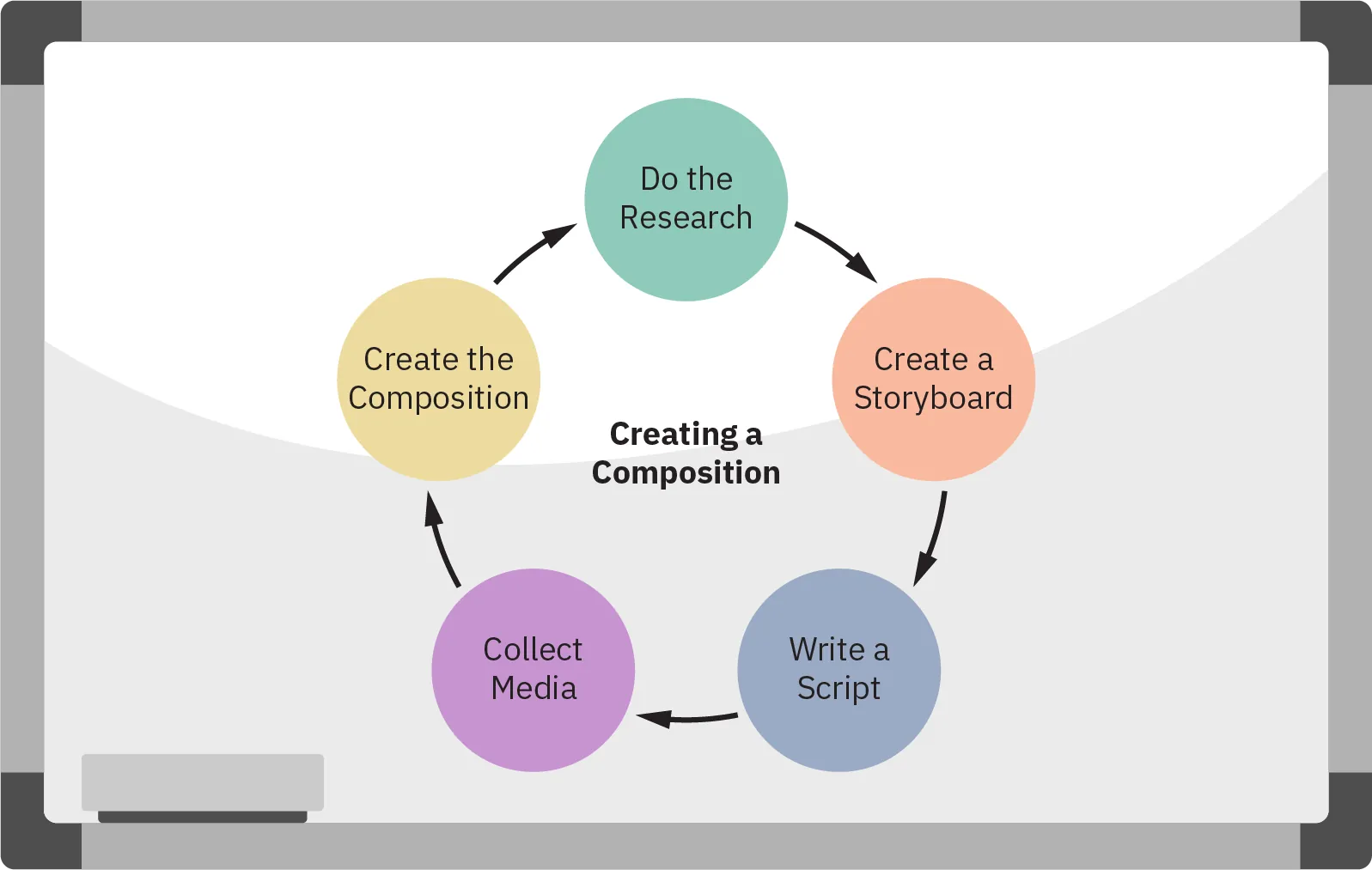 Though your options for your project may seem endless, this is how the student drafted the photo essay about the war in Syria. Because the composition primarily uses the visual mode, the student created a mockup, which includes the photo from Figure 18.17 as well as other photos and shared information.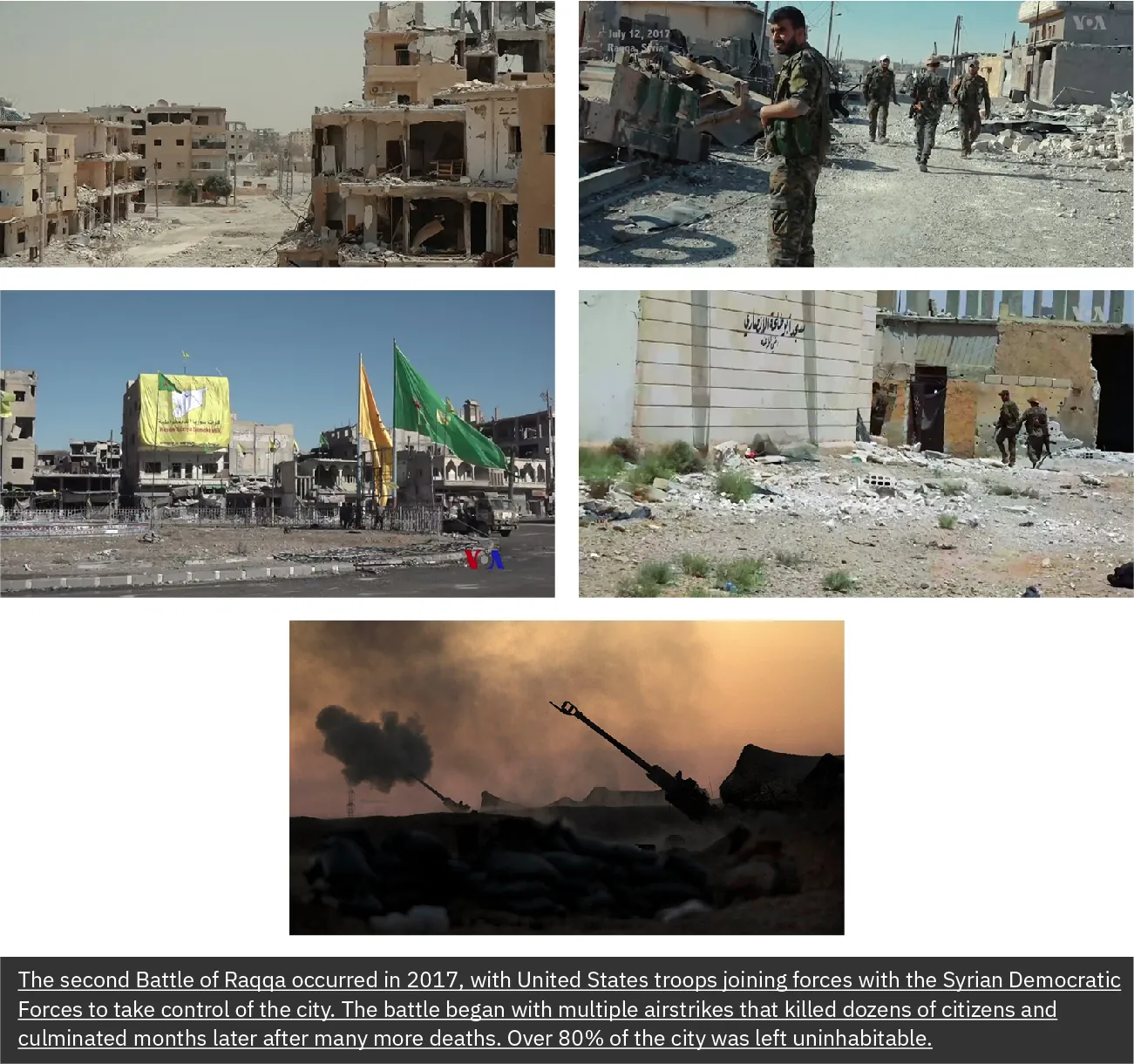 Creating the prototype is the next step. Remember that this is the stage at which you consider which elements of mode and media to use and put them "on the page." Keeping in mind the purpose, organization, and audience, design a prototype that meets those guiding principles.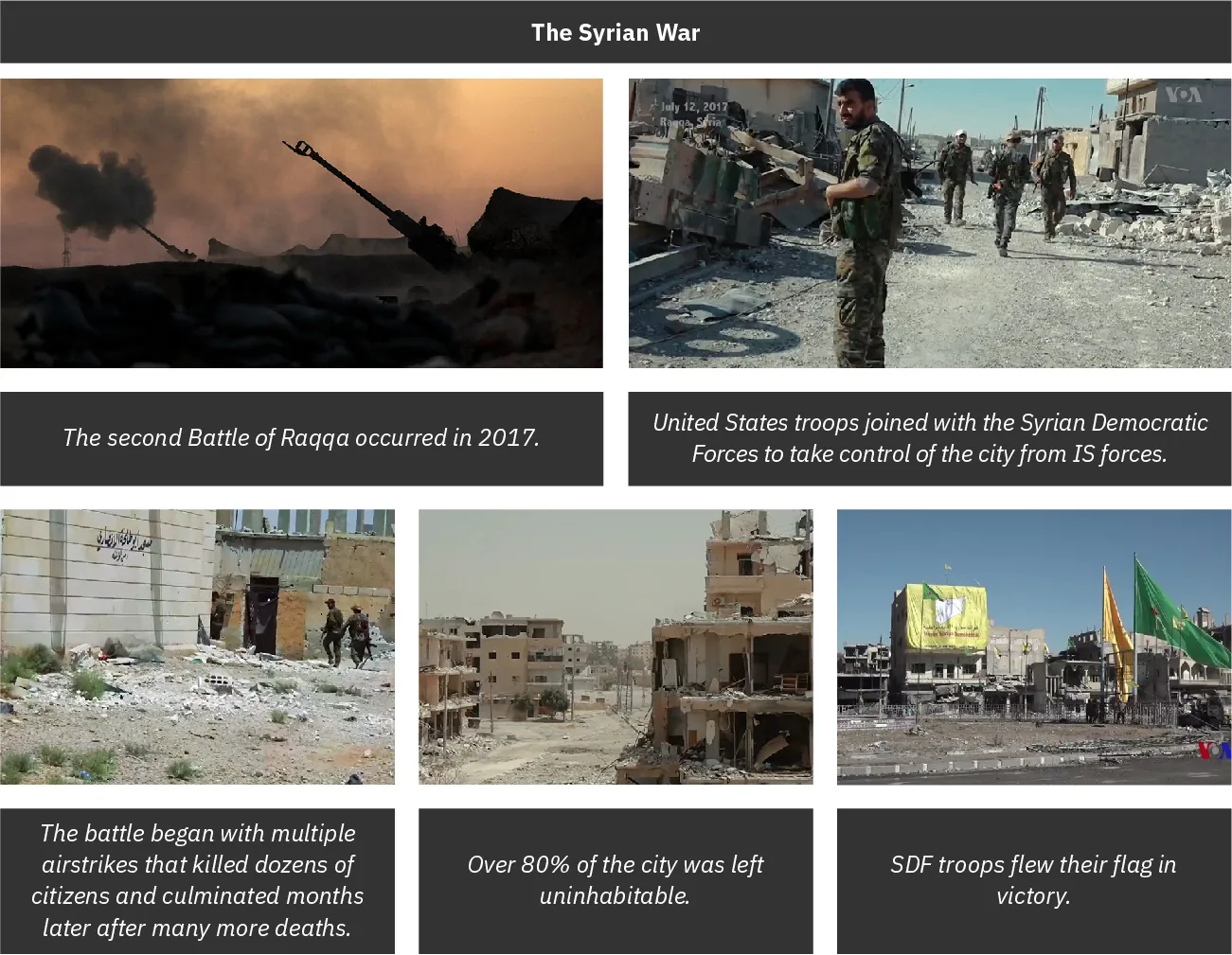 With these adjustments, the student has completed the prototype. It is now ready for peer review.
Peer Review: Asking Specific Questions of the Writer
For your review, provide your peer reviewer with your mockup or storyboard and your prototype. Seeing your process may help your reviewer offer feedback and suggestions. Your peer reviewer can use the following questions to think critically about your project, focusing on both its strengths and its areas for improvement, and to guide their feedback. Your response to these questions will guide your revision process.
Questions about Topic
How did you choose the focus of the composition?
How did you narrow down the scope of your topic? Should it be broadened or narrowed further?
Questions about Purpose
My reaction after reading or viewing the composition is ________ because ________. Does this reaction match your intent for the composition?
In my opinion, the thesis of this composition is ________. If this is your thesis, how can you strengthen your rhetorical arguments to better support it? If you intended to have a different thesis, how can you restate your claims to clarify the composition's purpose?
The project uses sufficient evidence to support your claim that ________. How can you better support the claim that ________?
Questions about Audience and Culture
What audience are you trying to reach? What are the characteristics of this audience?
What do you want your audience's reaction to this composition to be?
How have you accounted for the similarities and differences between you and your audience?
Are the elements of the composition accessible and meaningful to the audience?
Questions about Genre and Media
The genre of this text is ________, including conventions common to this genre such as ________. Optional: You might consider including other conventions such as ________ in order to strengthen the content by ________. How does this genre best capture the message you want to convey?
The media chosen within the project's genre (do/do not) effectively communicate the author's intent by ________. How could using other media such as ________ increase the impact of the communication?
A transition that works well in this composition is ________. How can you create a more effective transition here: ________?
Revising: Responding to Questions
You will next revise your project, using your discretion to incorporate your peer reviewer's feedback. After considering reviewer comments, actively engage with that feedback to plan your revisions. As with textual compositions, revisions to multimodal compositions often involve rewording, shifting ideas, and rewriting to better address your audience and purpose.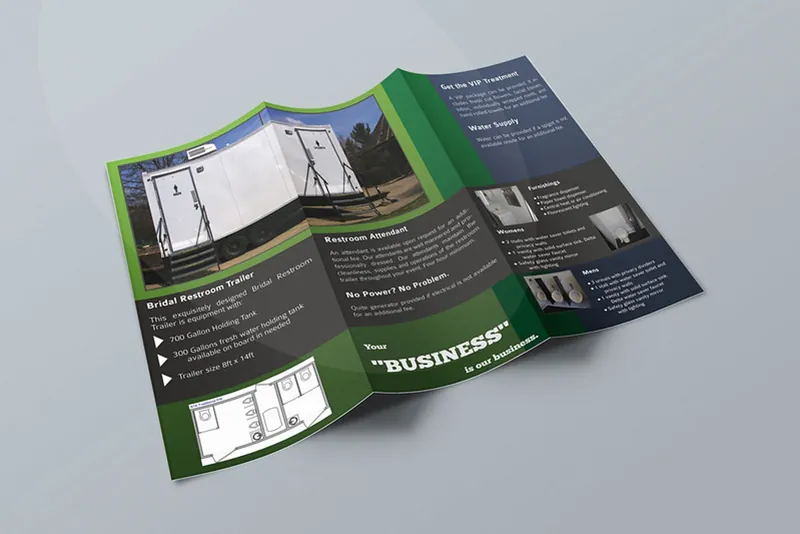 Answering Questions
To begin the revision process, answer the questions your peer reviewer has posed. Focus first on the rhetorical situation, including your composition's topic, purpose, and audience as well as questions surrounding culture. Reflect on improvements you might make to represent and communicate the rhetorical situation within the scope of a multimodal composition. Consider using these sentence frames to answer your reviewer's questions.
The reason I chose this genre is ________ (relate to purpose/audience/organization). I could better communicate by ________.
I used rhetorical appeal through ________. This is effective in this way: ________ but can be strengthened further by ________.
I considered the culture of (myself/viewers or readers/subject of composition) by ________. Other cultural components I would like to consider or address are ________. My plan to do that is ________.
Next, answer questions about genre and media. How might the tools available serve you more effectively? Is your choice of media the most effective to communicate with your audience? What aspects of the primary genre are key to helping you convey your issue? How can you introduce other genres, or aspects of other genres, to strengthen the impact? In responding, be mindful of creating smooth transitions and content that is uncluttered and clear in meaning. Consider using these sentence frames to answer your reviewer's questions.
The genre ________ captures the message I am trying to convey by ________. I could strengthen this communication by ________.
Using new media such as ________ or ________ could increase the impact of the communication by ________.
My plan for ________ (media/mode) and ________ (media/mode) to work together is ________. I will revise my composition to achieve that by ________.
I will strengthen my transitions by ________.
The student composer of the prototype above might answer a reviewer's questions in the following way:
student sample textI chose the photo essay genre to show the effects of war in Syria in an expressive, meaningful way. I designed a simple layout contrasting the colors black and white to organize the narrative. I primarily called on pathos to invoke the emotions and values of viewers, drawing them in with powerful images, but I think I could strengthen the emotional appeal by rearranging the pictures and more clearly addressing the most powerful statement: that 80 percent of the city was left uninhabitable. I also think my headline could be more attention grabbing, and I plan to revise it to draw viewers in and more accurately reflect the subject matter. I will revise my composition to achieve a more effective presentation by editing my text to make it more direct and by reordering my photos to leave viewers with a more forceful statement.end student sample text
Revising
Alternatively, the student might choose to keep the same format, thinking that it best expresses what they hope to communicate. However, the student might make revisions based on the peer reviewer's feedback and their own reflection, in which the student mentions revising the text, reordering photos, and changing the headline. Consider this revision of the sample photo essay, in Figure 18.23.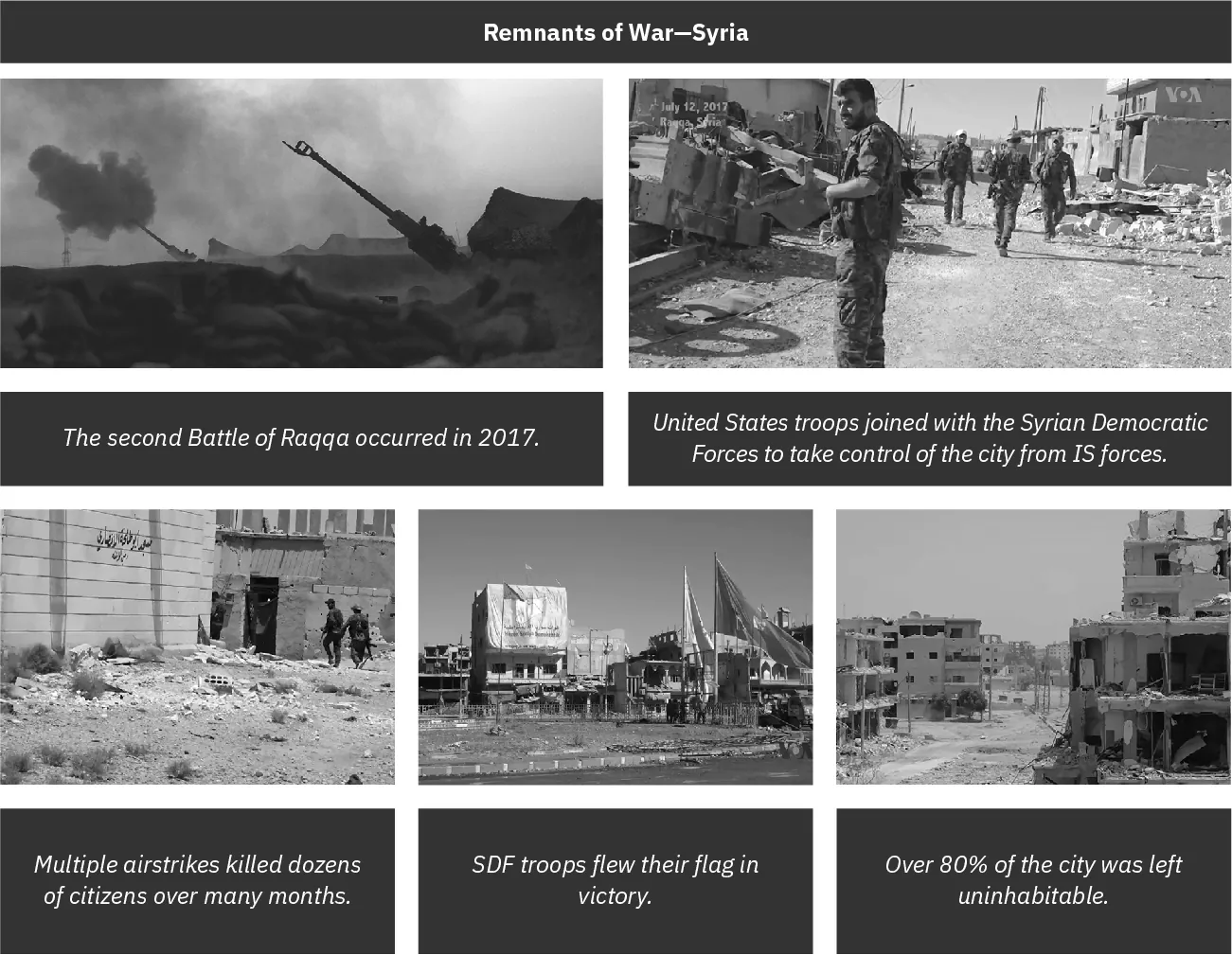 The author makes revisions according to peer reviewer feedback and reflection of that feedback, particularly as it relates to purpose, organization, and audience. To get a better sense of the revision process, carefully examine the student's thought process.
student sample textI revised the headline from "The Syrian War" to "Remnants of War—Syria." This headline is more engaging for readers and viewers and better reflects the purpose of my project: to convey the desperate situation in Syria resulting from the war that has ravaged citizens' lives.end student sample text
student sample textI changed the aesthetic by using a black-and-white filter on the photos. Not only does this contrast with the white space and white text, creating a more organized and cleaner look, it more effectively appeals to readers' emotions by emphasizing the destitution left by the Syrian War.end student sample text
student sample textI rewrote the captions of the final three pictures to make them closer to one another in word count, which is visually more pleasing. But even more important, they create a more powerful narrative, building upon one another.end student sample text
student sample textI reordered the final two pictures, ending on what I consider the most powerful image and most powerful statement: that 80 percent of the city was uninhabitable after the war. I intend to increase viewers' emotional responses with these changes.end student sample text
Remember that you do not have to accept every suggestion a peer reviewer makes, but do give each question and suggestion careful thought. Pay close attention to your reviewer's questions and their perception of your purpose and audience in particular, ensuring that they match yours. And again, don't be afraid to experiment. One benefit of multimodal composition, particularly when created with digital media, is that it is relatively quick and easy to manipulate. One valuable tip is to duplicate your work in different workspaces as you make changes, thus saving the major elements of your project should something go wrong.