A primary goal of any business is to maximize shareholder or owner wealth and thus continue operating into the future. However, in making decisions to be profitable and to remain in business into the future, companies must think beyond their own organization and consider other stakeholders. This approach is a major goal of sustainability, which is meeting the needs of the present generation without compromising the ability of future generations to meet their own needs.1 Another concept that is sometimes associated with sustainability is corporate social responsibility (CSR), which is the set of actions that firms take to assume responsibility for their impact on the environment and social well-being. CSR can be used to describe the actions of an individual company or in comparing the actions of multiple corporations.
Just as individuals often make conscious decisions to recycle, reuse items and reduce their individual negative effect on the environment, so too do most businesses. Corporations affect the world on many different levels—economic, environmental and social—and many corporations have realized that being good stewards of the world can add value to their business. Companies increase their value, both financial and nonfinancial, in the eyes of consumers and shareholders by heralding their efforts to be good citizens of the globe and the results of those efforts. It is important to note that a corporation's social and environmental influence is often affected by government policy, both local and federal, and sometimes even internationally through agreements and treaties. The global effort to limit climate change is an example of this influence.
In December 2015, 196 nations adopted the Paris Climate Agreement, a historic plan to work together to limit the increase of global temperatures to 1.5 °C. The Agreement aims to help delay or avoid some of the worst consequences of climate change within a system of transparency and accountability in which each nation can evaluate the progress of the others.
In June 2017, President Trump announced his intention that the United States withdraw from the Agreement. Five months later, Syria ratified the Agreement, leaving the United States as the only non-participating country in the world.
By November 2017, however, a coalition of 20 U.S. states and 50 cities, led by California governor Jerry Brown and former New York City Mayor Michael Bloomberg, had formed (Figure 13.2). During the 23rd UN Climate Change Conference in Germany, the members of this coalition pledged to continue supporting the Agreement. They aim to do this by reducing their carbon output, which is a measure of their carbon dioxide and other greenhouse gas emissions into the atmosphere.
In addition to these commitments at the local, state and national level, many U.S. companies have also committed to reducing their carbon output, including Walmart, Apple, Disney, Tesla, and Facebook.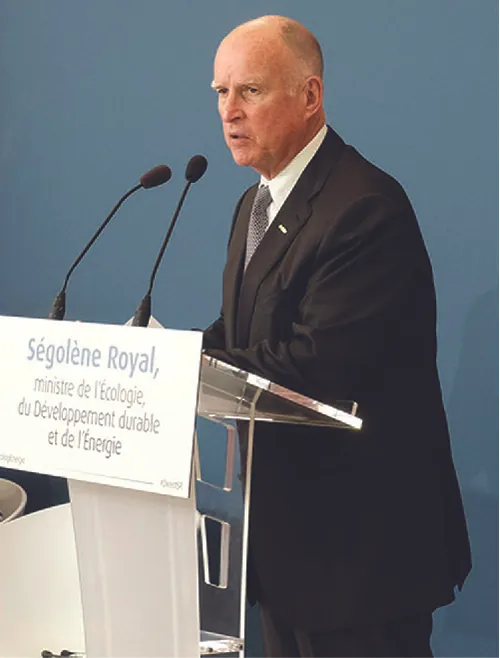 The fact that these companies and others are run by CEOs whose primary objective is to make a profit does not mean they live in a vacuum, unaware of their effects on the larger world. As mentioned, responsible companies today are concerned not only about their economic performance, but also about their effects on the environment and society. Recall, corporate social responsibility (CSR) is the set of steps that firms take to bear responsibility for their impact on the environment and social well-being. Even if some managers are not personally guided by these motivations, good corporate citizenship makes good business sense.
Historically, companies disclosed financial information in their annual reports to allow investors and creditors to assess how well managers have allocated their economic resources. The public usually learned little about a company's hiring practices, environmental impact, or safety record unless a violation occurred that was serious enough to make the news. Companies that did not make the news were simply assumed to be doing the right thing.
Today, however, as a consequence of social media platforms such as Facebook and Twitter, the public is more aware of corporate behavior, both good and bad. Investors and consumers alike can make financial decisions about firms that align with their own values and beliefs. Management decisions perceived to be detrimental to society can quickly put companies in a bad light and affect sales and profitability for many years. Thus, users of financial reports increasingly want to know whether businesses are making appropriate decisions not only to increase shareholder wealth, but also to sustain the business, and minimize any future negative effects on the environment and the citizens of the world. This management goal is called business sustainability. The number of companies reporting sustainability outcomes has grown over the last two decades. This growth has made this non-financial component of reporting increasingly important to accountants.