PA
1
.
LO 11.2Your company is planning to purchase a new log splitter for its lawn and garden business. The new splitter has an initial investment of $180,000. It is expected to generate $25,000 of annual cash flows, provide incremental cash revenues of $150,000, and incur incremental cash expenses of $100,000 annually.
What is the payback period and accounting rate of return (ARR)?
PA
2
.
LO 11.2Jasmine Manufacturing is considering a project that will require an initial investment of $52,000 and is expected to generate future cash flows of $10,000 for years 1 through 3, $8,000 for years 4 and 5, and $2,000 for years 6 through 10. What is the payback period for this project?
PA
3
.
LO 11.3Use the tables in Appendix B to answer the following questions.
If you would like to accumulate $2,500 over the next 4 years when the interest rate is 15%, how much do you need to deposit in the account?
If you place $6,200 in a savings account, how much will you have at the end of 7 years with a 12% interest rate?
You invest $8,000 per year for 10 years at 12% interest, how much will you have at the end of 10 years?
You win the lottery and can either receive $750,000 as a lump sum or $50,000 per year for 20 years. Assuming you can earn 8% interest, which do you recommend and why?
PA
4
.
LO 11.3Ralston Consulting, Inc., has a $25,000 overdue debt with Supplier No. 1. The company is low on cash, with only $7,000 in the checking account and does not want to borrow any more cash. Supplier No. 1 agrees to settle the account in one of two ways:
Option 1: Pay $7,000 now and $23,750 when some large projects are finished, two years from today.
Option 2: Pay $35,000 three years from today, when even larger projects are finished.
Assuming that the only factor in the decision is the cost of money (8%), which option should Ralston choose?
PA
10
.
LO 11.5The Ham and Egg Restaurant is considering an investment in a new oven that has a cost of $60,000, with annual net cash flows of $9,950 for 8 years. The required rate of return is 6%. Compute the net present value of this investment to determine whether or not you would recommend that Ham and Egg invest in this oven.
PA
11
.
LO 11.5Gallant Sports is considering the purchase of a new rock-climbing facility. The company estimates that the construction will require an initial outlay of $350,000. Other cash flows are estimated as follows: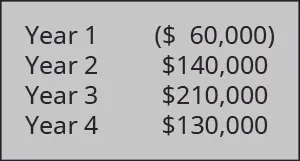 Assuming the company limits its analysis to four years due to economic uncertainties, determine the net present value of the rock-climbing facility. Should the company develop the facility if the required rate of return is 6%?