Learning Objectives
By the end of this section, you will be able to:
Distinguish between traditional marketing and entrepreneurial marketing
Describe the seven elements of the marketing mix
Being a successful entrepreneur often means being able to balance the many different aspects of a business, such as financing, accounting, and management. One of the most important of those aspects is marketing. After all, if no one hears about the new product, how can it be successful? According to marketing research company CB Insights, in a survey of 101 companies that failed, 14 percent of them failed due to poor marketing.2 Marketing is an umbrella term given to those activities that companies use to identify consumers and convert them into buyers for the purposes of achieving a profit. No matter the size of the enterprise, marketing lays the foundation for how a company reaches and serves its target customers. Whether it's a global brand such as PepsiCo or Apple, a small- to mid-size company such as Birchbox, or a small restaurant or local gym, marketing refers to the core strategies companies use to reach and sell to customers. As you might expect, the way entrepreneurs market their new product is somewhat different from how a large company markets an established brand.
Traditional Marketing
Traditional marketing for large businesses such as Coca-Cola, Disney, and Dell tends to focus on managing and growing existing programs and brands. Companies like these enjoy greater resources such as substantial financial support and large numbers of marketing professionals to steer their efforts. However, marketing for small- and medium-sized businesses (those with 500 or fewer employees and less than $7.5 million of yearly receipts, as defined by the Small Business Administration)3 is different because financial resources are limited, and it is often the entrepreneur alone who is in charge of marketing efforts. If they do have funds for marketing expenses, they might use a small agency on a fee-for-project basis.
As you have learned in previous chapters, small start-ups are usually tight on resources, so they need to augment their resources through creativity and hard work. While having limited resources creates obvious challenges, being small also has its advantages. For example, it allows new companies to be more flexible, agile, and creative than their established competition. These qualities can allow new companies to disrupt their industries and become major global players by employing entrepreneurial marketing practices.
Entrepreneurial Marketing
On a basic level, entrepreneurial marketing is a set of unconventional practices that can help start-ups and younger firms emerge and have an edge in competitive markets. The main difference between these and traditional approaches is that entrepreneurial marketing tends to focus on satisfying the customer and building trust by providing innovative products and services that disrupt or appeal to a specific market. Table 8.1 provides an overview of differences between traditional and entrepreneurial marketing.
Traditional versus Entrepreneurial Marketing
| Traditional Marketing | Entrepreneurial Marketing |
| --- | --- |
| Greater amount of resources | Few to no resources; founder drives efforts (sweat equity) |
| Management of an established brand, reminder advertising | Must be ingenious, energetic, and persistent to develop story and brand; leads to trust |
| Financial and market share goals | Satisfaction and awareness goals |
| Manage existing customers | Capture first customers; develop a client base and long-term relationships |
| Manage existing products, promotion, pricing, placement, people, physical environment, and process (the "7 Ps") | Develop new products, price points, channels (placement), communication, process, training, and design |
| Continue doing what works | Trial and error; market pilots |
| Communication with customers standardized, one-directional; more difficult to create one-on-one relationships | Communication with customers is more fluid and spontaneous; two-way relationships |
As the table shows, entrepreneurial marketing emphasizes flexibility and innovation as a way to stake a claim within competitive markets. For example, consider how Drybar founder Alli Webb used her understanding of market needs to create a niche within the traditional hairstyling industry. A hairstylist by trade, Webb spent five years as a stay-at-home parent, drying hair for friends and family members at their homes to make extra cash. During this time, she realized there was a market need for "just" blowouts, or professional hair drying and styling.
Seeing this need, Webb developed a business model that would offer women a way to get a blowout without having to also get a cut or color. Webb didn't invent the blowout; she just reinvented the space to do it, focusing on that sole aspect of hair styling, and offering the service in trendy settings (Figure 8.2). By being flexible and innovative through a new space to provide this service, Drybar was able to carve a niche in the hairstyle industry. In business since 2008, Drybar is still expanding. Webb expected to open at least 20 new locations in 2019.4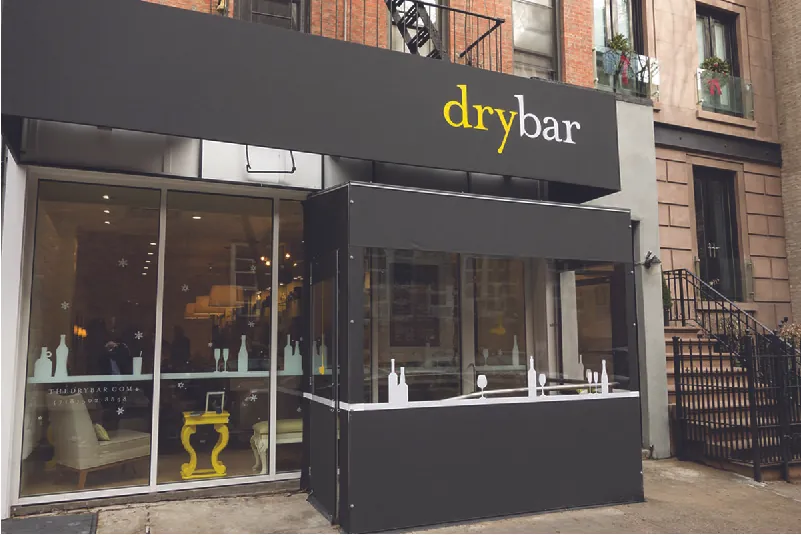 Marketing Mix
One of the biggest misconceptions people have about marketing is that it is all about promotion, or how a company sells or advertises something. But the truth is, promotion is just one facet of the marketing mix, which describes the basic set of strategies and approaches that marketers use to identify and reach their target market. A target market is the specific group of consumers for which a company seeks to provide a good or service.
One common way of understanding and remembering the components of the marketing mix for products and services is by thinking in terms of the "7 Ps." While each of these can be part of a company's marketing mix, the first four relate more to products: product, pricing, promotion, and place (and traditionally have been called "the 4 Ps of marketing"). The remaining three relate more to services: physical environment, process, and people. While the 7 Ps are conceptually the same for all businesses, how a company addresses each "P" will be specific to that company's needs and goals.
For a better understanding of the marketing mix, look at how Figure 8.3 breaks down the 7 Ps into their related activities.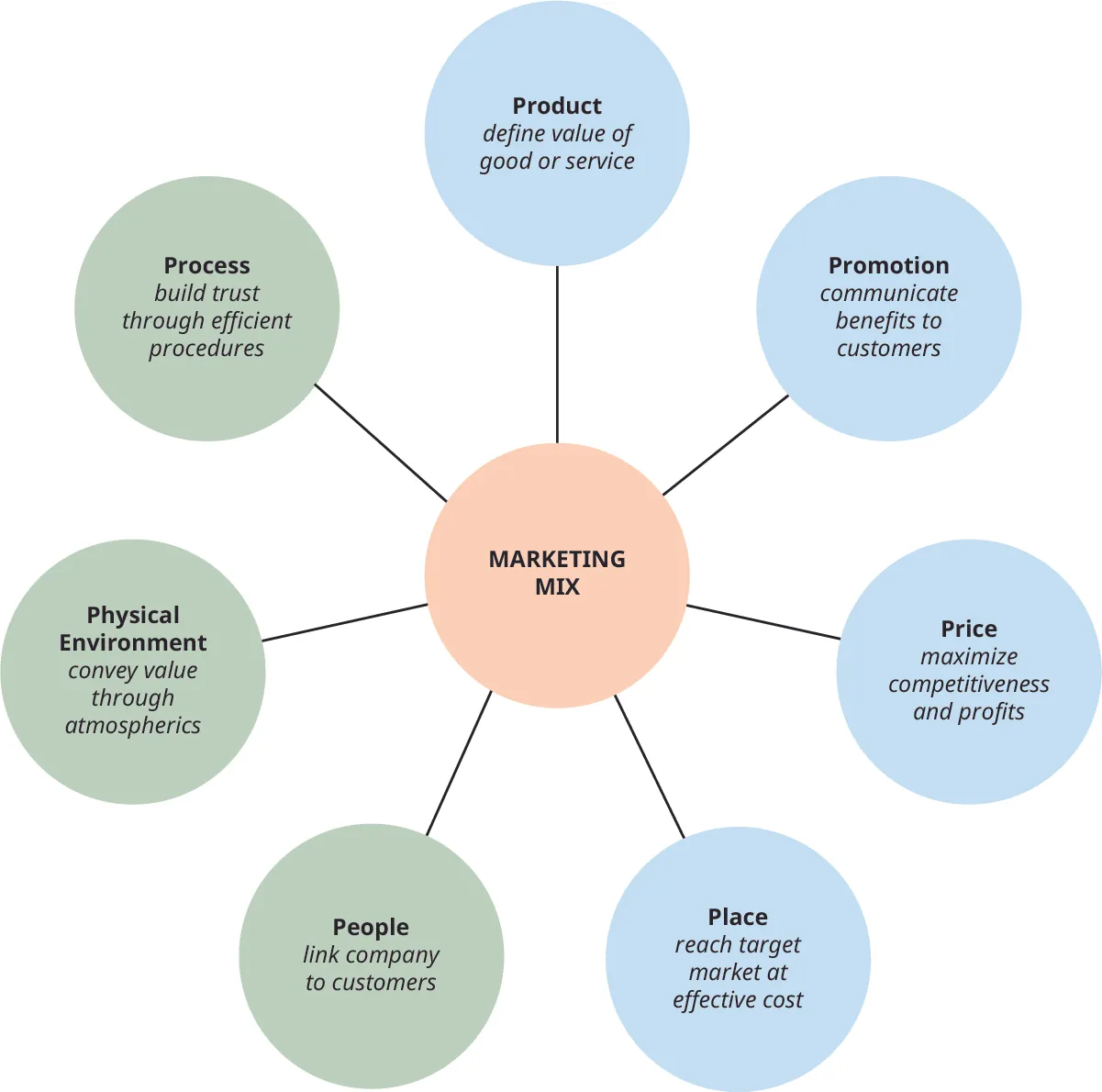 Footnotes
2Erin Griffith. "Why Startups Fail, According to Their Founders." Fortune. September 25, 2014. http://fortune.com/2014/09/25/why-startups-fail-according-to-their-founders/
3

"Meet Size Standards." Basic Requirements. U.S. Small Business Administration. n.d. https://www.sba.gov/federal-contracting/contracting-guide/basic-requirements#section-header-6

4Diana Blass. "Drybar's Rise to Success with NetSuite Has a Hidden Message for Partners." CRN. October 4, 2019. https://www.crn.com/news/cloud/video/drybar-s-rise-to-success-with-netsuite-has-a-hidden-message-for-partners
5

DryBar. "About Us." n.d. https://www.thedrybar.com/about-us/

6

Under Armour. "Our Story." n.d. http://www.uabiz.com/company/history

7Lauren Goode and Chris Welch. "Jawbone Is Going Out of Business." The Verge. July 6, 2017. https://www.theverge.com/2017/7/6/15931080/jawbone-going-out-of-business-report
8

Conor Allison. "Jawbone Health: Everything We Know So Far about the New Premium Health Platform." June 17, 2019. https:www.wareable.com/health-and-wellbeing/jawbone-health-hub-medical-health-wearable-2144